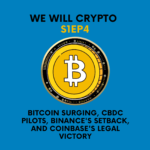 Welcome to We Will Crypto, your ultimate source for the latest updates on the world of cryptocurrencies. Join us as we explore the recent surge in Bitcoin's price, the initiation of Central Bank Digital Currency (CBDC) pilots, the regulatory challenges faced by Binance, and the legal victory of Coinbase. Stay informed about the ever-evolving crypto landscape and discover the implications for investors and enthusiasts alike. Tune in now for expert analysis and insightful discussions on the most compelling topics shaping the crypto industry.
Welcome to "We Will Crypto," your ultimate source for the latest updates in the world of cryptocurrencies. In today's episode, we have some thrilling news to share. Bitcoin has surged above $31,000, driven by institutional support and the belief in its potential as an alternative to traditional markets. Additionally, we'll explore Brazil's CBDC pilot program, Binance's regulatory challenges, Coinbase's legal victory, and JPM Coin's -denominated payments debut. Strap in and get ready for an action-packed dive into the exciting realm of digital assets. Let's get started!
Bitcoin, the king of cryptocurrencies, has once again captured our attention as it soared above $31,000, marking its highest level in over a year, yesterday Friday June 24th. This surge is a testament to the continued optimism in the market, fueled by major financial institutions' embrace of crypto.
The largest cryptocurrency rose as much as 4% in early afternoon trading, hitting its steepest price since June 7, 2022. This impressive rally comes amidst a rather dreary stretch for stocks, highlighting Bitcoin's resilience and its ability to outperform traditional markets. This morning, Bitcoin is hovering around the 30,700 mark.
: The recent gains in Bitcoin can be attributed to institutions' growing commitment to layering crypto into their businesses. Trustworthy names in asset management and retail investing have joined the crypto bandwagon, injecting fresh optimism and boosting investor confidence when it was relatively low.
This last week we have been talking about, BlackRock, the world's largest asset manager, and how it filed an application for the first spot Bitcoin exchange-traded fund (ETF) in the U.S. This significant move opened the floodgates for other institutions, including WisdomTree, Invesco, and Valkyrie, to follow suit. They either filed for similar products or updated their existing filings, signaling a broader acceptance and adoption of cryptocurrencies.
It's important to note that Bitcoin's price surge isn't just a reflection of institutional involvement; it also indicates the maturation of the crypto ecosystem. With trusted institutions entering the space, the days of bad actors like Binance and FTX may be numbered. The industry is shifting towards a more regulated and secure environment, which is a powerful catalyst for its growth and development.
: The impact of these recent developments has been remarkable. Bitcoin has witnessed a 17% increase in price over the week, outperforming the S&P 500's 2% loss during the same period. This performance demonstrates the resilience and potential of cryptocurrencies as a viable investment option, especially during times of market volatility.
However, while the market is abuzz with enthusiasm over Bitcoin's price surge and institutional support, it's essential to remember that the approval of a Bitcoin ETF by U.S. regulators is not guaranteed. The Securities and Exchange Commission (SEC) has historically been cautious and has opposed such funds. As a result, the decision on Bitcoin ETFs remains uncertain and is subject to regulatory scrutiny.
Nonetheless, the positive momentum and growing institutional support have injected new life into the crypto market. It's an exciting time for crypto enthusiasts worldwide as we witness the continued growth and acceptance of cryptocurrencies as a legitimate asset class.
We also have news that Brazilian Central Bank has authorized the inclusion of Mercado Bitcoin, the country's largest crypto exchange, in its Central Bank Digital Currency (CBDC) pilot program. Mercado Bitcoin will lead a consortium that includes partners such as Mastercard, Genial, Cerc, and Sinqia. This move highlights the growing acceptance of cryptocurrencies in the traditional financial system. The CBDC pilot aims to evaluate technical aspects and governance models. Brazil's CBDC is expected to be rolled out by 2024 as a means to increase financial system participation.
And for some binance news, Belgium's Financial Services and Markets Authority (FSMA) has ordered Binance, , to immediately halt its services for local customers. The regulator accuses Binance of offering exchange services and custody wallet services in Belgium using countries outside the European Economic Area, which is in violation of the law. This order adds to the ongoing regulatory challenges faced by Binance, including allegations from the U.S. SEC and an investigation by French authorities. Binance has already withdrawn from several European markets due to regulatory issues. The exchange expressed disappointment with the FSMA's decision and stated its commitment to working with regulators in compliance with its obligations.
And In Coinbase News, In a 5-4 ruling, the Supreme Court has sided with Coinbase in a case related to the Federal Arbitration Act (FAA), a rule that protects businesses from costly court settlements in customer disputes. The decision states that the district court must pause its proceedings while an interlocutory appeal is ongoing, affirming the automatic stay in arbitration agreements. This outcome is significant as arbitration clauses are known to hinder class-action lawsuits. The ruling is a win for Coinbase and a setback for customers involved in the Coinbase v. Bielski and Suski v. Coinbase cases, as their lower court litigation will be paused pending the appeal. Overall, the Supreme Court's decision favors Coinbase's position.
This weeks Bitcoin price surged to its highest level since June 2022, reaching $31,410, driven by several factors. The belief that bitcoin offers an alternative to the challenging macroeconomic environment contributed to its rise. Additionally, three institutional projects played a role: BlackRock seeking approval for a U.S. bitcoin exchange-traded fund, the launch of EDX Markets backed by Citadel Securities, Fidelity Digital Assets, and Charles Schwab, and JPMorgan Chase's debut of euro-denominated payments with JPM Coin. The fear of missing out (FOMO) also prompted investors to enter the bitcoin market. Despite being below its all-time high, bitcoin's recent performance defied expectations of extinction due to past crises and scandals.
That concludes today's episode of "We Will Crypto." We hope you enjoyed this deeper dive into Bitcoin's recent price surge and the impact of institutional involvement. Stay tuned for more daily updates on global crypto narratives. Remember to like and subscribe to our channel for the latest news and insights. Until next time, keep riding the crypto wave and stay informed. Thank you for joining us!
Disclaimer: The information presented in this podcast is based on the data provided and is for informational purposes only. It does not constitute financial advice or investment recommendations. Please conduct your own research and consult with a professional advisor before making any investment decisions.